Professional, affordable research services to help you discover your family history.
Trace immigration, naturalization, military, birth, marriage, and death records.
Document your medical history.
Organize your research files
Learn effective use of research technology
Break through "brick walls"
---
So you've done the research and located genealogical or historical records from Southeast Texas courthouses or libraries, but have a limited travel budget? Let me obtain those items for you!
Research Locations
I use the resources of libraries and agencies primarily in Southeast Texas (see map below for counties), which include, but are not limited to:
Clayton Library - Center for Genealogical Research (Houston)
Harris County Courthouse
Texas Room, Houston Public Library
Local LDS Family History Centers
Sam Houston Regional Library & Research Center (Liberty)
University of Houston Libraries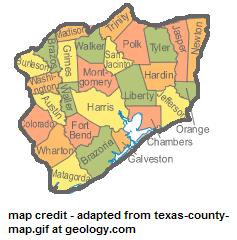 I also utilize several Internet-based services. If you have searched the online catalogs of Southeast Texas libraries on the Internet and need photocopies from specific sources, I can provide those for you. I will travel to other libraries and repositories outside of the Southeast Texas area upon special request.